Interview with Pat Higgins
Friday, November 4th, 2011
The trailer for mental looking exploitation flick Strippers vs Werewolves premiered this week and I caught up with Pat Higgins, the man who came up with the beautifully simple idea of facing off strippers and wolf men.
The trailer should give you an example of what to expect. I can only imagine that the feature film will be strippier and more wolfy.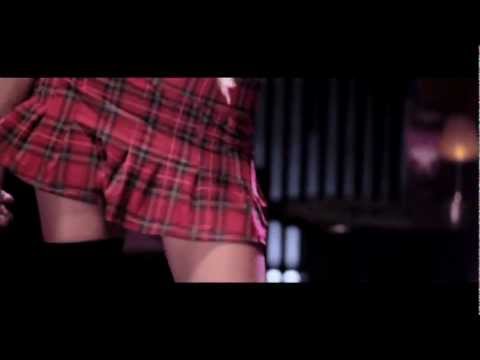 Pat Higgins is a successful writer and director of horror movies such as Hellbride, KillerKiller, The Devil's Music and one slice of Bordello Death Tales. We had the chance to speak to him about Strippers vs Werewolves, his new film.
Strippers and Werewolves seem an unlikely combination for a showdown. How did you arrive at this unusual pairing?
Back in about 1998, I used to take endless cult and exploitation movies from tv, trying to build up an archive. These would usually end up two on a tape, and I'd try to pair up flicks that had something in common. Maybe the same subgenre, same director, whatever. One of those tapes ended up with a couple of similarly themed 'erotic thrillers' on it, probably 'Kandyland' and 'Stripped to Kill' or something like that. Either way, the double-bill tape ended up with the scrawled label of 'Strippers vs Nutters'. Something always struck me as funny about that, and references to 'Strippers vs Nutters' started creeping into my other projects. Somewhere between 1998 and 2008 it mutated into 'Strippers vs Werewolves'.
My company, Jinx Media, had produced a brochure for Cannes that year with 16 pages to fill, and we only had 15 pages of actual content. About two days before we went to the printers, we decided to hastily assemble a teaser poster for 'Strippers vs Werewolves', add a tagline of 'It's a B-movie. But it's a fucking good one' and slap 'In Development' across the top of the page. We were out in Cannes that year promoting a flick called 'The Devil's Music', but at parties or whatever I kept getting introduced as the guy who was making 'Strippers vs Werewolves' and that seemed to be what people actually wanted to talk about.
When we got back, I decided "Damn, I'd better actually write this thing".
In the summer of 2010, I got an email from Jonathan Sothcott asking to read the script (which he's heard about via the wonderful Eleanor James on the set of his movie 'Dead Cert'). He was interested in exploring the possibilities of a co-production between Black & Blue and Jinx Media. He loved the script, and somewhere along the line his company ended up in sole control of the project.
You're credited as co-writer of the screenplay with Phillip Barron. How was that process?
I wrote a script, delivered it and did all rewrites as requested. I wasn't actually made aware of Phill's input until after the film had wrapped, which I was somewhat surprised about. We met up for a coffee at that point; he seems a decent guy.
How much involvement did you have during the casting process and how great is Steven Berkoff?
I wasn't involved in casting or the actual shoot at all. Steven Berkoff is indeed great, though!
What is, for you, the most exciting thing about this film?
From a personal point of view, it's wonderful that an icon like Robert Englund ended up involved in a project that I'd been carrying around, in one form or another, for so long.
What's next on your agenda?
I wrote and directed the final chapter of an anthology movie called 'Bordello Death Tales' which went through the BBFC a week or so ago (http://www.bbfc.co.uk/AVV284683/) and was great fun. There's a trailer over at http://amberpictures.co.uk/ in the 'Trailers and Videos' link, and that will be out on DVD very early next year. The other two chapters are directed by Jim Eaves and Al Ronald, both of whom are fantastic writer/directors. It's a real horror mash-up, done with a lot of love.
The big one coming up next for me is 'The House on the Witchpit', (teaser poster at http://www.jinxmedia.co.uk/media/House_WP_Teaser.jpg) which is a dark horror movie. A full-on 3am panic attack of a flick, plus there's something absolutely unique about the movie which I'm not allowed to talk about yet. I'm massively looking forward to it.
Are there any other head to heads that you'd like to explore? Can I suggest Vampires vs People who Cycle on the Pavement?
Sadly, I reckon the 'vs' thing is coming to the end of its cycle. Back in '98, when the title started brewing in my mind, there were absolutely no head-to-head flicks in the culture whatsoever. Nowadays, you're looking at dozens of the bloody things and I think that if anyone tries to release a 'vs' flick much after the end of next year the audience will probably start throwing things at the screen. Pity, because 'Cheerleaders vs Poltergeists' has such a nice ring to it.
Strippers vs Werewolves will be released in 2012 by Kaleidoscope Distribution. The Clapper Bored will be keeping you updated on the film's progress, so long as you're a big fan of Stippers and/or Werewolves. Visit Jinx Media to find out more about Pat's projects.