Trailer Review!
Sunday, December 11th, 2011
Well, here it is again. The feature you thought was gone for good. Trailer Review!
First up is the new Nicholas Sparks film The Lucky One which stars Zac Efron and looks like the soppiest thing that might ever have been committed to celluloid. But… much as I want to hate Zac Efron and the films that his face (and perfect body) appear in, I can't. Yes, this looks stupid. Yes, this looks manipulative. But he's so fucking cool that I can ignore that and just watch him. There's a girl as well.
Too happy? Well, here's a trailer that's been getting a lot of buzz on the internet and I can't understand why. The Cabin in the Woods purports to be a cliche breaker; a shot in the arm to the tired teen slasher genre. But could it look any more generic? Oh, wait, there's a knowing reference to horror movie conventions! We've never seen that before *coughWesCravencough*. Bah, not for me.
Efron again here, but just the voice (what use is that to anyone???) with the animated adaptation of Dr Seuss' The Lorax. It's a weird eco-nerd story that is about 20 pages long so the film adaptation is bound to be fleshed out with gratuitous set pieces. Still they've roped in Betty White, Danny DeVito and *swoon* Taylor Swift for voices, so it's bound to have cross generational appeal (not). SPOILER ALERT: Lessons will be learnt.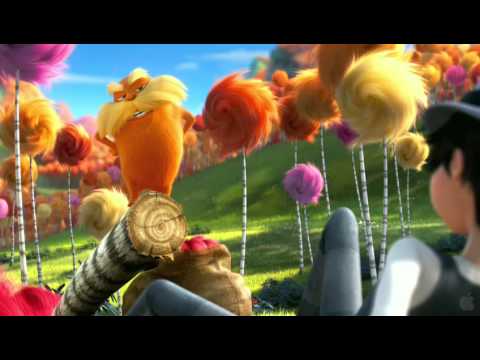 Finally, the second trailer for the idiotic adaptation of the board game Battleship has been released and it seems like a suitable filler for the hole left between Transformers 3 and Transformers 4. This second trailer has more Rihanna, more giant underwater robot thing and less Brooklyn Decker (What?!?). Still, on the plus side the only similarity is seems to share with the eponymous strategy game is a typeface.