The Girl With The Dragon Tattoo
Sunday, January 8th, 2012
From the moment I heard Karen O's cover of The Immigrant Song, I kind of knew that I was going to love Fincher's version of The Girl With The Dragon Tattoo. This impression was consolidated by the fact that I don't have a great deal of love for the Swedish version (it's fine but it's an extended TV movie) or Noomi Rapace's interpretation of Lisbeth Salander that was so widely lauded. In fact, the aspect of the novel that intrigued me most, and which failed to come across in the Swedish language version, is the pulpy, midnight sun thriller aspect that made the book so popular (and irritatingly abundant). And who better than David Fincher to make a cult movie out of a cult source?
The movie opens with all the glitter and gloss of a perverted Bond movie. The figure, dripping in silver, turns out to be our first glimpse of Rooney Mara's Salander and it's a fine juxtaposition to the next couple of hours which are unrelenting ice and snow (and metaphors, you know). It's difficult to look at any interpretation of The Girl With The Dragon Tattoo without focusing your critical gaze on the lead actress and, sure enough, Mara is excellent as Salander, in a role that is brutal, unforgiving and as unsexy as any gratuitously nude role in history. Honestly, she makes Monica Belluci in Irreversible seem like a brazen siren.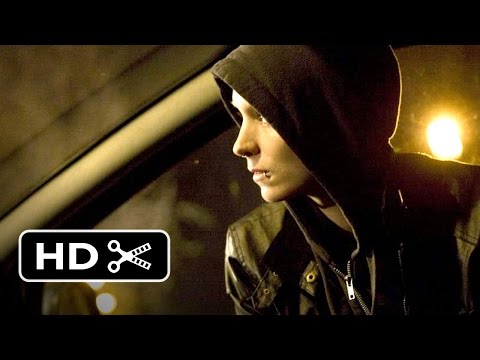 And the anal rape is tough to watch. As is the forced blowjob. As is the dead cat. As is the tattooing. As is the plastic bag over the head. As is a huge chunk of the film. Fincher is playing with our discomfort in the same way as he did in Seven but here the effect is less central to the plot and, sometimes, it feels like the camera ought to turn away, just as the audience inevitably will. But it's in more silent moments, that usually linger with coffee, cigarettes and Daniel Craig's glasses at extraordinary angles, this new version of the source text feels almost compulsively compelling.
The myriad of Hollywood supporting actors on show here give good accounts of themselves, particularly Christopher Plummer's paternal but never entirely innocent seeming Henrik and Stellan Skarsgard (he of 'any country other than England' fame) as the island's heir apparent. And the climax, for those 7 people who haven't read the book, is a thing of riveting, psychopathic beauty and is, here, executed with the same panache that made Fincher's infamous 'head in a box' scene so desperate but so watchable.
A disturbing, nightmarish film but one that is helmed by an auteur at the top of his game. Devilishly cool.
| | |
| --- | --- |
| Title: | The Girl With The Dragon Tattoo |
| Director: | David Fincher |
| Starring: | Rooney Mara, Daniel Craig, Christopher Plummer, Robin Wright, Stellan Skarsgard, Joely Richardson, Steven Berkoff |
| Certificate: | 18 and a dead cat |
| Running Time: | Very on the long side |